It's not every day I learn from a local TV station's website that my university has launched a new college:
Boise State University announced Monday that it is building a "business garden" in the form of a new college in the capital city in hopes of "growing" a better business community in Idaho.

President Bob Kustra made the announcement of BSU's new Venture College Monday afternoon in front of business leaders and students who are hoping to be accepted.

The idea is to allow students an opportunity to compete for start-up funds for their business idea, and then have local business executives help them get that idea off that ground and into the market.

The goal is to launch a new business from a non-traditional college model.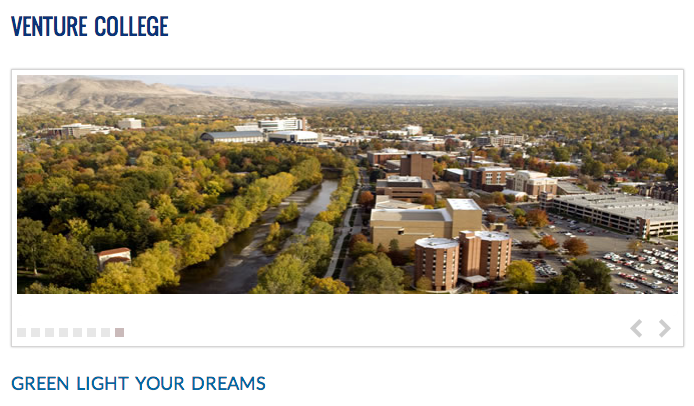 You'd think the university administration might have mentioned this development to, you know, faculty.  And yet I spoke with a passel of humanities and social sciences faculty today, and no one had heard of it prior to this morning.
The website for the new "college" offers a little more information:
Venture College prepares students to launch businesses. This new, non-credit program is open to all full-time students in any major. Students who successfully complete the program receive the Boise State University Venture College Badge. […]

Is Venture College for you?  Led by business executives, Venture College offers students a customized education plan, individual coaching by experts, internships and invaluable experience to launch their own businesses or nonprofits. Be a part of like-minded, focused group of friends making a difference!

What will you receive? You will be eligible to compete for limited start-up funding.  You will get real world experience. Some students will actually launch their businesses while still students.  All will gain skills valuable to employers.

What's the commitment? Venture College is a two-semester program. It's flexible and self-paced, but you must be able to participate in a colloquium each Friday from noon to 2 p.m. Students should plan on about spending 10-15 hours a week on Venture College pursuits.
The leadership of Venture College—an entrepreneur, a former CEO, and a former venture capitalist—will, we are told, report to the VP of Research and Economic Development, who reports directly to the university's president.  The college "has the highest level of university commitment." Venture College is free to students enrolled full-time at Boise State.
I might not have the exact same objections to this new, erm, venture that some of my readers have. Indeed, I find parts of the "Why Venture College?" page quite persuasive, its use of buzzwords aside.  (I was surprised not to see "strategic dynamism" appear on that page.)
Other parts are not so persuasive, in part because much of the "why" page is vague, or it outright contradicts other efforts of the university:
"Boise State is. . .challenging traditional educational strategies and piloting new methods for superior, relevant education." Then why is the college offering lecture capture and Blackboard to the rest of the university?
"Venture College will provide self-paced, on demand access to knowledge, intensive mentoring and an opportunity to compete for resources needed to start a business."  Self-paced and on demand suggest the program will be largely online, aside from two-hour colloquia on Friday afternoons.  Who is developing and delivering the online content?  (I also am concerned that students who are working to put themselves through school or who have family to care for won't be able to commit to 10-15 extracurricular hours each week for two semesters.  This seems like an opportunity only relatively young, unburdened, privileged students might be able to pursue.)
A badge is not, to put it mildly, a college.
I appreciate that the university is trying new models and is acknowledging, albeit indirectly, that there aren't jobs in Idaho for many of our graduates—at least not well-paying ones, as Idaho has the highest percentage of minimum-wage workers of any state. (Three-quarters of the jobs created in Idaho last year were service-sector jobs, which are more likely than most to pay the minimum wage.)  Students do indeed need to develop what the university terms the "4 Cs" of 21st-century skills: communication, collaboration, critical thinking, and creativity.
My question is this: Doesn't a liberal arts education promote the development of exactly these characteristics? I know I emphasize all four of these in my humanities classroom.  And I'm not just emphasizing these in an abstract way.  In fact, the assignment I handed out to my Master of Applied Historical Research (public history) students last night asks students to demonstrate they possess all these skills.  I'm asking students to write a proposal for the development of a mobile app that would be of use to public history professionals.  (You can download the assignment if you're curious.)  Following this assignment, students will draft a grant application or—perhaps, I haven't decided—create a slide-deck and pitch for venture capitalists or a foundation to fund the development of the app.
Undoubtedly this assignment will horrify some of you.  And it's a far cry from the advice I heard at my first NCPH conference a few years ago that the introductory graduate course in public history should cover the basics of museum exhibition development, archival management, and historic preservation practice.  Museum stuff is close to my heart, so I do introduce current issues in the field, and I also provide students with an overview of challenges in historic preservation, but from there, my curriculum deviates sharply from the traditional seminar. If you view the syllabus for the course, you'll see I have recommended Grantwriting for Dummies and I require students to read The $100 Startup because, regardless of whether they want to start their own consulting firms (and some students do indeed have that goal), students need to think creatively, resourcefully, and entrepreneurially, even if they're employed by state agency or a nonprofit.
Why has my teaching and mentoring taken this turn? There aren't many good jobs for public historians in Idaho; the best places to work are already populated by young, bright people who plan to stick around for a while, and many of the state's museums and historical organizations are atrophying rather than moving forward; my first-year students already have figured out they don't want to work for them.  My students want to be freelance grantwriters, historical consultants, documentary filmmakers, and museum technologists, and it's my job to help them along on their individual journeys. Hence my interest in introducing them to MVPs rather than the MRM5.
Frankly, I also am not certain for how long I can tolerate living on a faculty salary that is lower than average, and I'm increasingly aware my spouse labors in a dying industry. Some might argue that traditional higher ed and tenure-line jobs are also going the way of hoop skirt makers. So I've spent the past several years studying entrepreneurship, keeping abreast of advances in technology, staying informed about developments in a couple of industries that interest me and in which I suspect I could consult successfully, and generally trying to be ready to "innovate" myself into an entirely new venture on very short notice. (Do I love my job and do I want tenure? Yes. Do I think my current career track is sustainable for the 25-30 years until my retirement? Nope!)
My main objection to Venture College, then, is that my university's leadership doesn't acknowledge, and perhaps doesn't even realize, that faculty are already innovating, already teaching students to be innovative, creative, collaborative, and entrepreneurial—and not just through very "real-world" projects like the one I assigned, but through a carefully crafted combination of readings, viewings, discussions, activities, writing assignments, and presentations.  You know: a liberal arts education with an eye toward 21st-century ways of engaging with the world.