It's the beginning of the semester, and as usual, I'm pulled in a hundred different directions.
The project from my internship with Seth Godin–it's a hybrid online/offline learning experience–is in pre-launch.  If the project sounds interesting to you, you can sign up for updates.
I'm playing intern matchmaker at work, and all kinds of new opportunities are emerging, which not only is awesome for history majors and grad students, but certainly makes my job easier.
I'm once again co-directing our department's initiative to pull our public history master's degree program into the 21st century; our first meeting took place today, and I'm optimistic about the year.
I had a phone interview late last week for a staff job in a great research institute at a fabulous university in a desirable location, and all indications are it went well. They asked for samples of a fairly specific genre of writing–interpreting academic research for an educated audience–and today HR indicated the right people were pleased with the sample articles and social media posts I wrote for them. Fingers crossed. . .
Lucas tests tomorrow for his blue belt in Taekwondo.
Today Lucas is eight!  I should write a birthday post, but I'm too tired.
If Lucas is eight, that means The Clutter Museum is almost that old as well.  Yikes.
Thanks to the university's new core course requirements (no history courses necessary!) my lower-division course is under-enrolled by half.  (In the past, it had a waiting list.)  My upper-division course on U.S. women is absolutely packed, however.
Let's close with the obligatory cute first-day-of-school photo of my geek-in-training: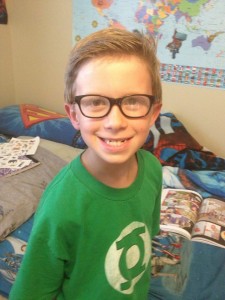 What are you up to these days?