For Ada Lovelace Day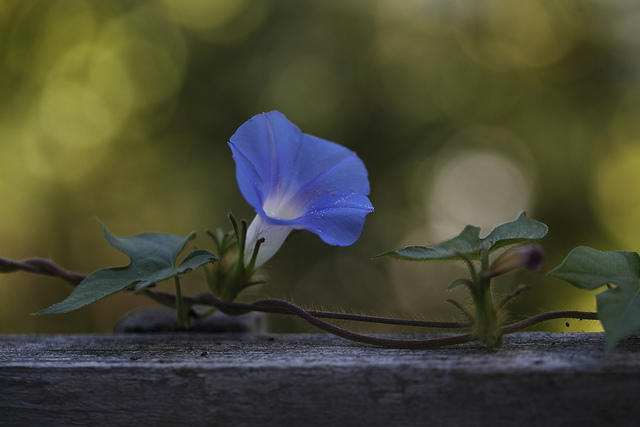 It's been ten years since I first visited an archive and flipped through the papers of a woman who practiced science, and since then I've had the pleasure of "meeting" many women who inhabited the margins of professional scientific practice, including some who expanded the boundaries of their fields.  One such woman was Theodosia Burr Shepherd.
Shepherd, who lived from 1845 to 1906, was a seedswoman and hybridizer of flowers who was generous with her knowledge and encouraging of other women interested in trying their hand at floriculture.  She may have established the first wholesale seed business in California, and she became known for her many successful experiments with petunias, poppies, and morning glories. The papers of the day called her "the woman Burbank," and she was an authority on cactus before it was cool.  She was the cultivator of the famous blue morning glory Ipomoea 'Heavenly Blue,' which she described in 1892 as a cross of  Ipomoea learii and Mina lobata, and she created the popular California poppy cultivar Eschscholzia Californica 'Golden West.')  She and her daughter, Myrtle Shepherd Francis, created many multicolor, double, and ruffled petunias; Francis even published some of their results in the Journal of Heredity.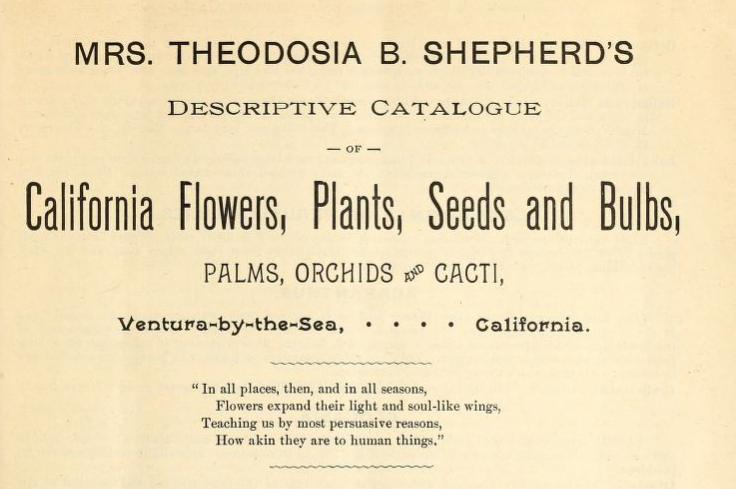 Tucked into the Shepherd collection at UCLA, there's a clipping from a 1905 Pittsburg (Calif.) Dispatch that includes a quote from Shepherd:
I sometimes think that we do not always choose our work, but are chosen, or called to it.  It has always seemed to me that I was called into the field of flowers with a special mission for them: to grow and disseminate them, where they are loved; to write about them; to talk about them, and, most of all, to create new varieties.
And talk about them she did.  Like many of her peers, she lectured to men and women alike about her specialty, but she also wrote more broadly about floriculture and women's place in it.  A typescript titled "The Woman in Floral Culture" makes clear she was a fan of outdoor recreation for women and an advocate of dress reform, as long skirts got in the way of real gardening work.  She declares the field of horticultural hybridizing wide open to sensibly dressed women, and she encourages them to cultivate hardy flowers whose seeds may be sold to novelty-hungry gardeners on the East Coast.
Her writing was highly accessible; she took pains to bolster her readers' confidence in their existing botanical knowledge and their potential to learn more through extrapolating from other biological knowledge and hands-on experimentation.  For example, she writes,
"People have been taught so long to depend upon authority to learn things to which they have not given especial attention, that they fail to realize that they have a fund of general knowledge within that will help them out."
. . .and of floriculture specifically:
I have heard people say, "I love flowers, but do not know anything about them," or "I love them but I never have any success with them; they will not grow for me."  Now we all do know something about flowers, and we all may have success with them, if we only apply the knowledge that our experience has given us, regarding other living organisms to plant life.
She romanticizes (in every sense of the word) her experiments to make them comprehensible to others, calling the flowers "lovers" among whom the hybridizer makes felicitous matches.  "Think of the happiness of becoming foster mother to myriads of seed children," she wrote, christening them, and sending them out into the world to "receive a glad welcome and give happiness wherever they go."
And they do—at least from me.  Whenever I see a "Golden West" poppy, a ridiculously ruffled double petunia, or "Heavenly Blue" morning glory, I give a little nod of familiarity to Theodosia's children.
I hope others will join me in recognizing and remembering Theodosia Shepherd for her promiscuous gardening and her generosity in sharing her methods, even with potential competitors.  Have you hugged her morning glory today?  (She would have.)
Morning glory photo by rachelgreenbelt, and used under a Creative Commons license
Catalogue image from the Biodiversity Library