(Trigger warning: This post contains references to sexual assault, as well as epithets related to the female anatomy.)
So. . . It's been an interesting summer. Alas, I cannot tell you about most of it because last week I was singled out by an, ahem, Second Amendment enthusiasts' group, which posted on its Facebook page (with my photo) that I am Michael Bloomberg's minion because I am a lead volunteer for [Redacted Organization Trying to Reduce Gun Violence By and Against Children] and thus Enemy #1 of [Second Amendment Group That Shall Not Be Named Because I Don't Want to Give it Attention Here]. A member of [Redacted Second Amendment Group] found my name on a press release on the national [Redacted Organization]'s website.
Of course, the very first comment on the post looked like this:

Sexual assault promoter's name intentionally not redacted. Please do not engage with anyone related to this incident.
The group's moderator responded with a "watch your language–there are children watching!"-type comment, but didn't remove the offensive comment. Neither would Facebook, as even though I and many others reported it, it apparently doesn't violate Facebook's Community Standards.
Anyhoo, because the post focused on my status as a Boise State professor and because that wasn't the only troubling comment (just my favorite!), I called the campus police, who transferred me to a very nice municipal police officer in a patrol car, who immediately offered to start driving by the house. He walked me through how to file a report and said that if necessary, the police would work with social media analytics experts, the Counter-Terrorism Task Force, and the FBI. He called back after I filed the report to emphasize all the resources at my disposal. At some point—it's a blur now—the officer and/or campus security offered me a special parking space near my office, escorts wherever I went, officers patrolling my building, and even someone posted outside my door. The police officer also called the next day, when he came back on shift, to check on me. Law enforcement took these threats very seriously.
And hey, I learned a few things:
You never know which of your colleagues has received death threats and thus has the cell and desk phone numbers for a local FBI agent.
If Facebook doesn't remove an offensive comment, sometimes an ally can leave a comment that prompts the moderator to remove the original comment within minutes:

Be an ally, folks. I <3 James.
Readers, here's what you should know: I'm fine. I'm safe. I have an amazing community of people from all over the political spectrum looking out for me. Friends offered alternate housing. The police and campus security were amazing, and I have not yet exhausted my security options. One gun-loving, [Redacted]-degree black belt offered to bring her AR and stand guard in front of my house all night. [Redacted] sent a posse my way, in the form of new Facebook friends, to read through my own reporting of the incident on Facebook and consider how best to approach the situation, and he suggested some legal routes I might take, depending on how things develop.
I attended a [Session of Redacted Spiritual Group], reintroduced myself to its community, and they, like good adherents of [Redacted Theology], offered me tea and clucked over me in a most [Redactedly] way.
So, what about the rest of the summer? Here's some other news I can't fully report because there have been threats to me:
[Redacted] is getting ready to advance to [Redacted Level in Redacted Sport]. We are very proud of [Redacted].
The [Redacted Home Security Measures] are working as expected.
I'm not teaching this semester, but I'm loving [Redacted Other Things I Do When I'm Not Teaching]–especially the [Redacted People with Whom I Often Work].
I'm planning an online course for the spring. It's a ton of work, but kind of fun.
Although I wasn't planning it, I accomplished [Redacted Thing on Bucket List that I Did Not Realize Was on My Bucket List Until I Did It]. Ends up that, with the threats, [Redacted Thing] was fortuitous. I really wish I could gush about [Redacted Thing's Details], but now I can't.
[Redacted Large Male Person with Whom I Live] is feeling [Redacted] about the gun kerfuffle, which [Redacted].
I went with [Redacted] to visit [Redacted] in [Redacted], and I had the opportunity to chat briefly with [Redacted Relative] shortly before she went on hospice. [Redacted] has lived much longer than expected, and has enjoyed tremendous support from her community at [Redacted]. Her decline came amazingly quickly, and it was hard talking to her because of [Redacted] and [Redacted]. Still, because [Redacted] lives next door to [Redacted], it's been very hard on [Redacted], who is in the unenviable position of [Redacted]. I wrote a poem—the first in a long while—related to [Redacted], but I can't share it here because [Redacted].
It's going to be an interesting academic year. I'll share as much of it as I can, but I must heed the words on this family crest: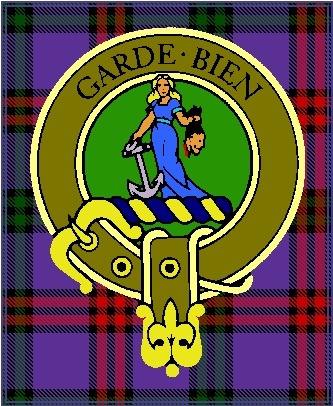 Honestly, we've never been gun people.